Our assortment of cosmetic plastic packagings cover most aspects of cosmetic products.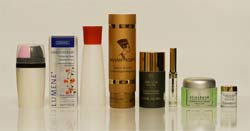 A wide, deep and innovative assortment
Our assortment is really diversified. Our suppliers offer a very interesting range. On the following pages we hope to inspire you and hopefully you will find what you are looking for concerning trends, designs and sizes.
Our standard assortment of cosmetic products contain plastic bottles, closures, tubes and jars. We offer sizes from 5 - 1000 ml.
We offer extruded and coextruded plastic tubes from 3 - 250 ml.
With our interesting range of closures for different purposes and with different dosages, we try our best to find what you are looking for.
We work only with European producers.
For different applications we use many different materials (LDPE, HDPE, PP, PET).
We offer several types of decoration possibilities.
In some parts of the standard assortment we can offer smaller quantities down to 10.000 pcs/order. We keep no stock of products in Sweden.
Our suppliers use top technology and produce according to the most rigorous quality and hygiene standards. This cover all types of packagings and production teknology from injection moulding to injection blow moulding and blow moulding processes. All factories are certified according to ISO 9001 and other relevant international norms.