We offer packaging solutions in plastics that cover most of the pharma segement.
Our product range is really devided in many range areas. It is adjusted to the hard requirements that is normal in the Pharmaceutical industry regarding sizes and performance.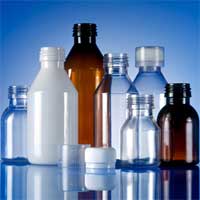 Our standard assortment include plastic bottles, closures and tubes etc.
We offer a standard assortment of bottles in size from 10 to 1000 ml.
We offer a standard assortment of child proof and tamper evident closures, vertical and horizontal droppers, measuring cups and pipettes.
We offer both extruded and coextruded plastic tubes from 3 - 250 ml.
A wide range of different standard products for dosages together with high quality closures makes the range fully expandible within all categories. It means tailor made to fit every exact individual requirement that our clients have.
Our suppliers packaging design are made to have a problem free and effective application in a pharmaceutical production. We co-operate only with high quality producers in Europe.
For different applications we use a wide spectra of materials like LDPE, HDPE, PP, PET.
Our partners use the latest production teknology and follow the most rigorous quality and hygenic standards. This cover the requirements for all bottles made with injection moulding and injection blow moulding to blow moulding processes. The major part of the production is done in modern clean rooms classified at 10.000 or 100.000 level. All factories follow regulations Good Manufacturing Practice (GMP) and are certifierade according to ISO 9001 or other relevant international norms.